Saturday Blb Day + 3
Today it was time to start travelling to Perth. We left Adelaide and headed to Whyalla where we had to house sit for friends who had gone to Adelaide for the day.
On the Port Wakefield Road, just out of Adelaide there are numerous metal sculptures with a political message which lightblb wanted to photograph. She insisted on being photographed in front of the Roach.
There was also an intrepid sky diver.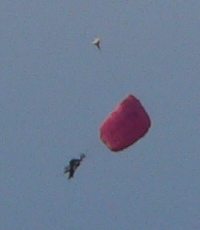 (Not a thumbnail.)
At Lochiel there is a salt lake. Apparently the Loch Ness Monster has taken up residence there.
There was a thistle there that caught the blb's eye.
Lunch was at Port Pirie. The blb has this thing about photographing plates of food:
We were sidetracked by a gnome farm near Pt Pirie.
Guess which is the gnome.
And on North towards Pt Augusta where we had a speed trial with a train. The Flinders Ranges are in the background. I am told they are the most ancient range on earth; older even than the blb!